9 clever storage hacks to make any room seem bigger,
4th November 2016
If you live in a cosy apartment or very small house, a lack of space is probably one of your great bugbears. Anyone who's lived in a tiny home will know it's seriously frustrating, especially if you're into interior design and making your space look its best.
Every square inch of storage is so important in a compact property. Even bigger houses can seem small if you don't get the most from what's there. However, the following storage hacks can help you to reclaim your living space once and for all.
1. High shelves
Using ceiling shelves is one way to store items, utilising an area that's normally ignored to create the illusion that there's more space than there is. Having books or other items stored close to the ceiling draws the eye upwards and exaggerates the height of the room, making it look and feel more spacious.
2. Use your bed for storage
One obvious solution is to store things underneath your bed, if the space allows. Storing items in boxes beneath your bed is a great way to free up floor space or to remove the need for additional storage units.
Bed risers can prop your bed up on stilts and create some space underneath it. Alternatively, get a headboard with built-in storage or a bed frame with storage drawers to turn your bed into something that combines function with good design.
3. Stack up some suitcases
Hipster trends are currently in full swing and one storage-friendly option is to stack some old suitcases as a table or nightstand. This means you can use them to hold items that you don't use on a regular basis. It's a simple way to combine more storage and vintage flair.
4. Adopt the cantaloupe rule
A small melon may not seem like an obvious basis for design principles but the "cantaloupe rule" makes a lot of sense. The basic idea is that most of your decorations should be the same size or bigger than a cantaloupe.
It doesn't mean you can't have small items on display but that a collection of ceramic animals could be considered excessive. Having less objects and bigger items on display prevents your room feeling cluttered. So pack away some of those knick knacks and you could end up with a room that appears larger than it is.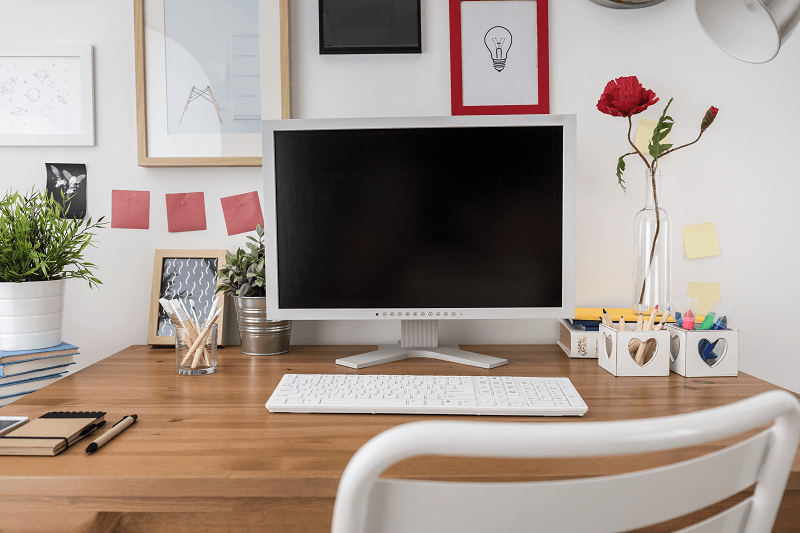 5. Hang your laundry up
Your laundry hamper can take up valuable floor space so why not try a hanging hamper that can be suspended from your bedroom door? This lets you see more of your carpet, keeps your laundry out of the way, and forces you to stay on the ball when it comes to doing your laundry on a regular basis.
6. Get hooked up
If you have a lot of shoes, it's easy to find them taking over the floor of your bedroom or the bottom of the wardrobe. One solution is to add hooks or pegs to the inside of your wardrobe door and hang your shoes from them. It keeps them out of the way but they're still accessible. It also utilises space that would otherwise go unused.
7. Get your bike out of the way
Bikes are so handy for commuting or leisure but they're an awkward item to store. Anyone who keeps their bike inside knows how easily it can block a hallway or dominate the corner of a room.
Luckily you can now get stylish mounts that let you hang your bike from walls. Or you can get suspension cables that let you suspend it from the ceiling. It's a great way to keep it out of the way without worrying about whether it's going to be stolen.
Just make sure that any suspension devices are properly installed. Nobody wants their bike to come crashing down in the middle of a dinner party or romantic meal.
8. Put a shelf above your doors
This is a perfect way to get the most from the unused space in your bathroom or bedrooms. The space above the door is never really utilised so it's an ideal place for a convenient shelf or cabinet. You can use it to store towels, bedding, toiletries or other bulky items that would otherwise get in the way.
9. Get furniture that multitasks
It doesn't take much for living rooms to get messy. When people are hanging out, it isn't long before things are left lying around to destroy your beautifully organised space. One handy solution is to get multifunctional furniture.
This is why you need to consider pieces like coffee tables with drawers or ottomans that let you pop things inside. It means you can quickly put things away, that items are easily locatable, and that your living room doesn't end up looking like a war zone.
Now doesn't that sound ideal?
Thinking of upgrading to a bigger property?
If you're looking to buy or sell, get in touch for expert advice or follow us on Facebook, Twitter or LinkedIn for all the latest news.