How to Bring Beautiful Scandi Trends to Your Irish Abode
There's a lot to admire about Scandinavia. The chilly countries up north consistently rank as having the happiest populations in the world (Finland has been once again crowned the happiest country in the world, with Norway, Sweden and Denmark also taking top 10 spots) and evidence of Scandi-influence is everywhere.
Nearly a decade after the Swedish now-cult classic The Girl with the Dragon Tattoo hit cinemas, Scandi noir films and novels continue to top the charts. New Nordic cuisine has influenced Ireland's own wave of contemporary Irish classics and shops hailing from the north like COS, & Other Stories and H&M dot the Grafton Street sprawl.
Without a doubt, one of the most enduring aspects of Scandi-mania hits a little closer to home: interior design. If you're looking to emulate the best parts of Scandinavian living, consider adopting an interior style that's both easy on the eyes and easy to adapt to your Irish abode!
Simplicity
If there's a cardinal rule to Scandinavian design, it's less is more. Ease into incorporating Scandi trends into your home by simply decluttering! Minimalism is having a moment across the board, so why not use this beautiful design movement to get rid of old knick-knacks and never worn clothing items or empty out the kitchen junk drawer?
The minimalist bend is more than an aesthetic choice in Scandinavian countries. Design rules dictate beautiful and functional as the baseline for everything from furnishings to clothing and dining. Let minimalism carry over from your clean-up and aim to replace furniture, cookware or décor bits with pieces that are high-quality and dual-purpose.
Bare Bones
Luckily, as far as design trends go, the bare bones look, 'a la Stockholm' is fairly easy to achieve. Think bright, clean interiors with hardwood floors and minimalist furnishings.
A neutral-coloured room is an ideal canvas if you're looking to go Nordic. Ditch brightly painted walls in favour of eggshells, beiges and greys. If you're a big fan of vibrant hues, these muted wall tones will allow coloured fabrics or art to really pop. Otherwise, consider doing up one feature wall in a bold colour.
Opt for a few high-quality pieces instead of a mess of mass-produced synthetic bargain items. Scandinavian design philosophy asks you to surround yourself with items you truly love and feel confident about purchasing, so exercise a bit of care when shopping for new homewares.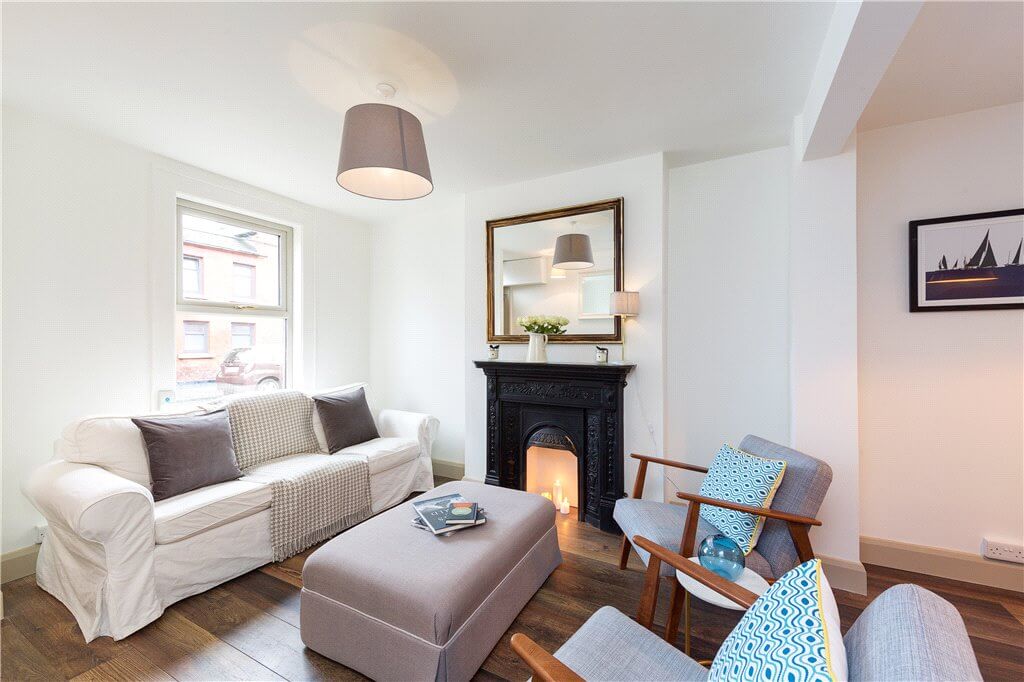 Minimal clutter and bright white walls give 34 Joy Street a clean, fresh feel.
A Step in the Right Direction
If there is one consistent feature that screams Scandi in interior design, it's hardwood flooring. In addition to the natural abundance of wood in these northerly countries, a light hardwood floor serves to reflect light and make a room feel bigger and brighter during the long, dark Scandinavian winters.
If you have the time and the skill, pulling up carpet and refinishing the original hardwood floors beneath can be a rewarding project. Otherwise, consider installing wood laminate flooring, which can be put down quickly and cost-effectively. Prices usually range from €7 to €20 per square metre.
Naturally, carpet is best for retaining heat. A few simple, well-placed rugs will add a bit of warmth, texture and comfort to a hardwood floored room.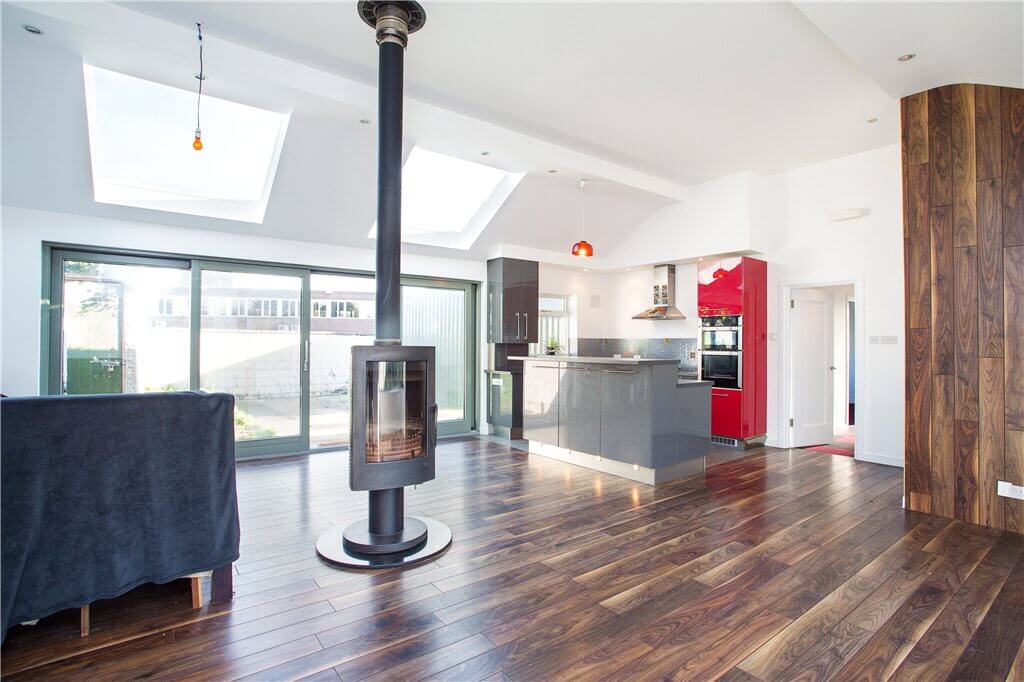 This timber floor serves to further expand this open plan kitchen/living room in 171A Foxrock Close.
Going Au Natural
In countries where the winter-time temps can reach -25C, Scandinavians need to bring the outdoors inside. Scandinavian interiors draw inspiration from the natural world. Making the switch from plastics and polyester to natural materials like wood and wool is an easy way to Scandi-fy your space.
If you're making big change up, like purchasing new a new furniture set, choose pieces that are designed with clean lines and organic materials. Light woods such as beechwood, white birch or pine are ideal for maintaining a bright, clean atmosphere.
Add simple accessories to indoor spaces such as wooden picture frames for paintings or photographs or cast iron and copper candleholders and lamps. Likewise, a few woollen blankets or clean cotton pillowcases will help to bring a sense of tranquillity to your home.
Finally, although we can certainly have our fill of greenery in Ireland, potted plants and flowers are an in-home necessity in countries where snow dominates the landscape for half of the year. Incorporate this Scandinavian trend with a few easy-to-grow greens like spider plants, aloe or a fiddle-leaf fig tree. If your thumb is about as green as a Swedish winter, plant-themed fabrics or paintings will do the trick.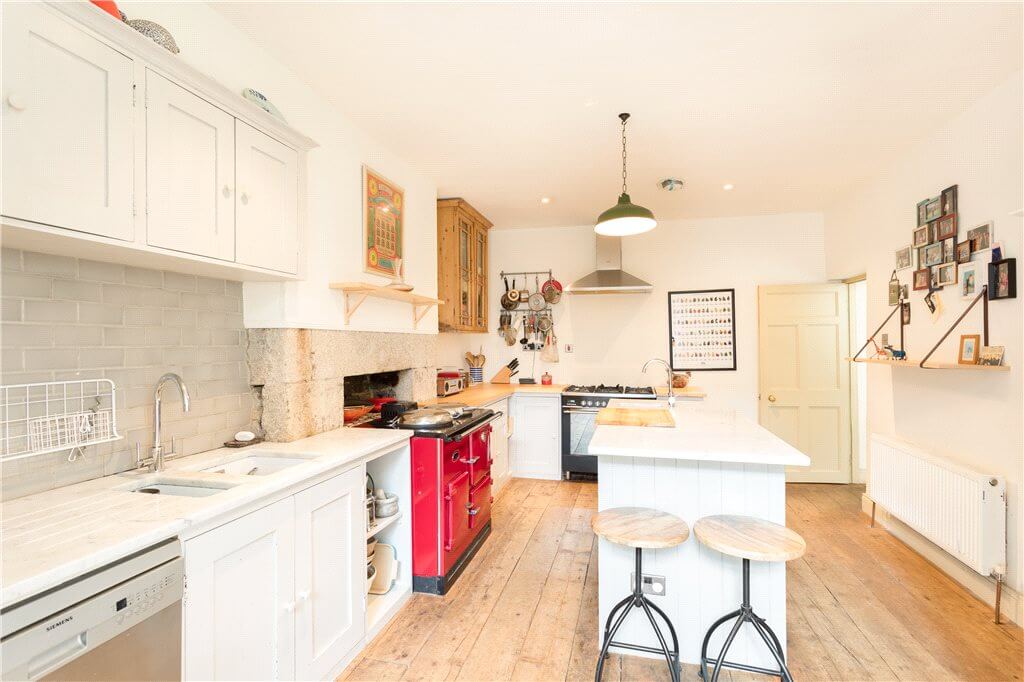 Wooden floors, shelves and stools in 29 Haddington Road, Ballsbridge bring a sense of the great outdoors into this city kitchen.
Get Hygge
Hygge (pronounced hew-guh) may be the best trend to come out of the Nordics in recent years, and requires no home refurbishment at all! The best part of living beautifully is enjoying it, and this is where hygge comes in.
The Danish Oxford Dictionaries 2016 Word of the Year finalist has no direct translation in English, but can best be summarised as a sense of coziness and comfort. Hygge is a warm cup of tea on a chilly night, the gentle light of wax candles or plush wool socks padding on hardwood floors. Above all, it's enjoying simple pleasures with good friends and family.
It doesn't matter if you have hardwood floors or carpet, a clutter of knick-knacks or the bare necessities, make the most of Scandinavian style by inviting over a few good friends and enjoy a warm meal together.