Padraig Pearse lived in my house – how to find out your home's secret history,
10th May 2016
Discovering that a well-known figure lived in your house is a major selling point for starry-eyed buyers. Hot on the heels of the recent 1916 commemorations, now is a great time to learn about the history of your home.
You might even discover that your house played an important part in the Rising.
Failing that, you might learn that pop culture influencers once lived in your humble abode. Bono once lived on Cedarwood Road in Glasnevin, Bram Stoker lived in Marino and even "The Notorious" Conor McGregor once resided in Crumlin. They had to have lived somewhere, so you never know!
In the case of possibly the most iconic Dubliner ever, James Joyce, he famously lived in 20 different Dublin locations! If you want to see if your home once housed the beloved writer, check out this list of Joyce's previous residences.
Closer to home, 'Glena', a stunning Victorian 6-bedroom house once belonged to celebrated Irish tenor John McCormack. The house was built in 1888 and bought by its current owners in 1975 for £37,500.
In memory of its most famous resident, a plaque denoting the birth and death of the popular tenor and Count of the Papal Court hangs by the door.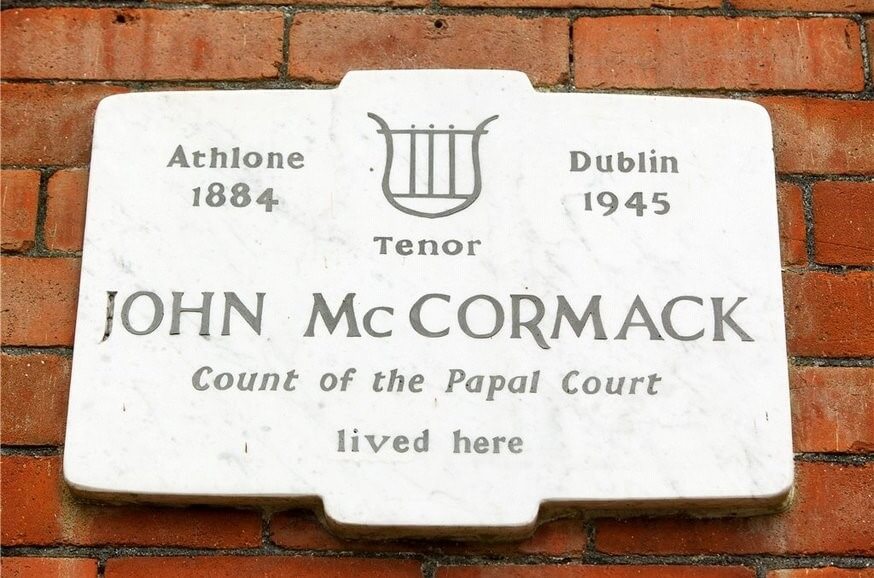 As with John McCormack, most houses once belonging to iconic figures are marked with a commemorative plaque, though some connections have yet to be discovered. And you could be the one to do it!
How to go about discovering your house's history
There are a number of ways you can learn more about your house's history, previous occupants and its points of architectural interest. This information can help to create an attractive description of the build – which is crucial when trying to sell a house.
Here's how you can find out more:
1. Online resources for discovering your home's history
Thankfully the internet is full of online resources to research your house's history, easily and often free of charge. The release of the 1901 and 1911 censuses by The National Archives of Ireland means you can learn who occupied a property before Ireland was even a republic. Nifty to use, the census is searchable by location.
Houses built since these censuses can be researched in the Thom's Online Directory. This directory covers the Dublin/north Wicklow area only. It is extremely comprehensive, however, and boasts a street directory listing 13,066 businesses and residents on the streets of Dublin from Balbriggan to Bray.
A fee applies for use of their online directory, starting at €15.00 plus VAT for 100 credits. The most recent hardback edition of the Thom's Dublin Street Directory, published in 2012, is available for purchase at the current price of €110.00 plus €9.90 VAT at 9%.
If you know the names of the previous tenants or owners and wish to research them further, online databases such as The Irish Times Irish Ancestors (which holds a fee of €7) and Irishgenealogy.ie both provide excellent information about our predecessors.
Should you be curious to learn about the house's geographical history or when it was built, Ordnance Survey Ireland can provide you with information about the physical aspects of your home.
For the house's financial past, you can research details of its valuations, property tax history and potential relationship with The Landed Estate Court from a number of different property records compiled by Irishgenealogy.ie.
2. Bricks-and-mortar research for learning about your house's previous occupants
Online resources are a fantastic port of call. However, approaching your research on a grass-roots level can provide invaluable and undocumented information.
Enquiring about the property at your local library or County Council office is always advisable. On a more informal level, chatting with your older and most knowledgeable neighbours can also reveal a wealth of anecdotal evidence about your home's history.
Information about the house's previous occupants, its architectural changes or even just some interesting facts about the area can potentially be a huge selling point so it's definitely worth exploring.
If you're lucky enough to discover that your home was once occupied by a well-known figure, capitalise on it in an accessible and inviting manner. Buying a high quality book about the famous dweller to show to viewers will encourage them to appreciate the significance of the connection. Presenting old photographs, sketches and artefacts belonging to the house will also give it an appealing sense of nostalgia.
Thinking about selling your house?
At Lisney, we are experts in selling houses – both new and old. If you have a question about selling a house, get in touch or follow us on Facebook, LinkedIn, and Twitter.
If you enjoyed this article, please share it by pressing the social icons below.
For a step-by-step guide to selling, download the Home Seller's Checklist now.