Bolands Quay sold, in its entirely, to Google.,
19th May 2018
Joint agent, Lisney is delighted to have advised on the sale of Bolands Quay, in its entirety, to Google.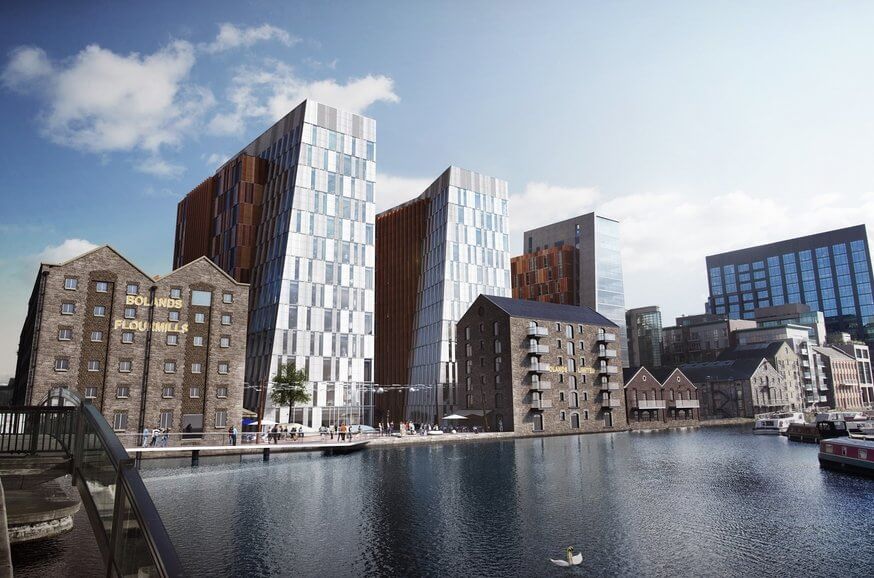 The development which received funding from NAMA for its construction as a single phase scheme is one of the largest urban regeneration projects undertaken in Dublin City Centre in recent years.
When complete, Bolands Quay will provide three new landmark buildings alongside the sensitively restored period buildings. Combined these will deliver 28,000sqm of office space as well as a mix of residential, civic and cultural spaces overlooking the waterfront of Grand Canal Dock.
Brendan McDonagh, Chief Executive of NAMA, said: "NAMA is pleased at the progress which has been made in developing this landmark site which will bring much-needed office, retail and residential accommodation to the city. The acquisition of Bolands Quay by Google is a significant vote of confidence in the Irish economy and in the future of its operations here and NAMA is very pleased to have been part of this successful outcome for all parties".
Google has invested over €1 billion in capital investment in Ireland since 2003 and last week announced a €150 million extension to its west Dublin Data Centre. With its EMEA HQ already located in the immediate vicinity on Barrow St., Google intends to retain the office accommodation within the Boland's Quay campus for its own use but will lease the remaining commercial premises and apartments.
Commenting on the announcement, Fionnuala Meehan, VP and head of Google in Ireland said, "We are delighted to announce the acquisition of Bolands Quay. Google was the first multinational company to establish operations on Barrow Street in 2005 and it is fantastic to see how the area has developed since then. With this investment, Google is ensuring we have the space to continue to grow our EMEA HQ operations into the future. This is a really exciting time for Google and follows on from our recently announced investments in Velasco and in our Data Centre in Grange Castle South".
Joe Borrett, Director of Real Estate & Construction, Google EMEA said, "This is a very important addition to our office portfolio in Dublin and the standard of finish in the development is a tribute to the architects, construction companies, the Receiver, Savills and NAMA. We are looking forward to creating vibrant new civic spaces and retail amenities for our neighbours around Barrow Street to enjoy".
Upon conclusion of the deal, Duncan Lyster, Managing Director of joint agent, Lisney, remarked "It's been our pleasure at Lisney to advise on the buildings at Bolands Quay and this deal. The scheme is going to be a real landmark, the last piece of the puzzle along Grand Canal Dock. Having been involved since 2015, it has been a really exciting project to work on and see grow. It will be a real credit to the Receiver Mark Reynolds, BKD Architects and the wider team. We're pleased to once again have been involved in another landmark transaction in Barrow Street having provided advice when Google acquired Gordon House and Gasworks House on Barrow Street in 2011.''