Creating Value in Your Home,
23rd April 2020
Finding Your Inner Domestic God or Goddess Amidst the COVID-19 Crisis
The more time we spend in our homes, the more we see the little jobs and casual neglects we all are prone to adding to our 'to-do' list. During our busy routines commuting, working, rushing around at weekends, kid's matches or classes, it's not a surprise that we continue to ignore these at-home easy-fixes.
I'm sure everyone working from home has had the reality sink in that they really should paint that front door, the weeds in the back garden will soon become a forest, the photo frames are not going to hang themselves and seriously if someone doesn't sort out the blocked drain in the shower someone's head is going to roll….!
Using this time at home to get your house in shipshape will not only do wonders for your peace of mind, but also can help you sell faster when it's time to move. In my own home, we've been starting out by painting areas of neglect, hanging a few photos, dressing windows sills, and planting pops of colour in the garden. We were surprised to see that Woodies made more sales from us – money that would usually have been spent on gin and tonics in town! The feeling of accomplishment is great, and not only are you going to enjoy the space you live in more, but also you are adding value if you decide to move.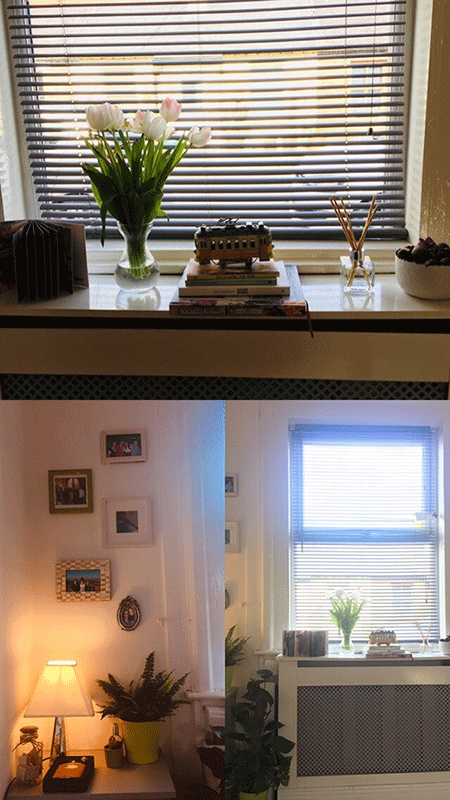 You don't have to go full Dermott Bannon to be happier at home. You can simply upcycle items in the house – for example, old baskets or teapots can showcase beautiful flowers. Continue to make better use of space. Declutter the shed, the wardrobe, the utility and anywhere else you have been sneakily hoarding. Think of it as clearing out to create the next chapter!
The last number of weeks have made it clear how important it is to be happy in your space. We have all realised and appreciated more that it's the time you spend with your family and friends that we miss the most, and it's important to have a pleasant living environment in which to enjoy this. If you aren't finding peace in in your current home, make the most of what you have with the time on your hands and make plans for the future move.
While things feel uncertain right now, what your personal and family needs are should be your top priority. We will all soon be on the other side of these strange times. Don't feel that you are stuck in a rut and at a loss. Take some time to fix up your home, repaint that spare room, update those fixtures and get value for your home.
As always, Lisney are here to help!
Click here to get in touch with our Dundrum team and book a free sales valuation of your home today!