How to sell your luxury house in Dublin
22nd June 2016
If you handed people a map and asked them to pick the most sought-after areas in Dublin, most of them would zero in on the high value areas like Blackrock and Foxrock. Alternatively, they would pick attractive suburbs in close proximity to the city centre and coastal areas in South Dublin. These areas are perennially popular with sellers, and while selling properties here seems simple, it's a specialised skill.
Today David Byrne, Director of Lisney's Leeson Street office, details how to sell a higher-end house in Dublin.
Who is buying in South Dublin?
The Leeson Street office caters to people at various stages of the buying cycle. Young professionals shopping in popular spots like Ranelagh, families looking for detached houses in coastal suburbs, investors and older sellers looking to trade down to townhouses or bungalows.
"We deal with everything from apartments in the city centre to red brick Victorian and detached houses in Mount Merrion, Blackrock and Foxrock," says David. "Within our catchment area, there is a great variety of property. Dublin 4 is traditionally the sought-after postcode. Post-recession, we've seen Ranelagh become more popular with young professionals."
It's not all locals though as the Leeson Street office receives a lot of enquiries from London and Singapore-based buyers who are seeking property in Dublin.
Lisney prides itself on providing the same quality service regardless of the price of the property but there are some differences when purchasing high-end properties. Getting your price point and marketing right is so important with higher-end properties.
Choosing an estate agent you can trust
"The majority of people in the Leeson Street office would be divisional directors with well over 15 years experience," says David. "So we focus on buyers and actively bringing them to the property. It's very proactive. We don't wait for people to come to us."
Lisney handles sales by auction or private treaty, depending on which option will achieve the best result for the client. Before anything is decided, an agent will call out to a property, sit down with the client and discuss their options.
An agent will take the client through the valuation of the house, discuss the best way to sell it and make recommendations about what actions are required. They'll also advise the client on what needs to be done with regards to title deeds, land registry certificates, BER certificates and other documentation.
The agent will then provide the client with a formal proposal and recommendations. Implementing ideas can be an ongoing process, depending on how much work is required, but the same agent will handle every step of the process.
"Lisney is in some ways a smaller team of very experienced residential negotiators," says David. "When we take on a property, you're always dealing with a director or an associate director who will look after you from the start to the finish. It's a personal service with senior team members dealing with all aspects of the property transition."
Getting the marketing right
The marketing of properties at the upper end of the market has changed dramatically over the years, with a range of digital tools available to showcase a property. Websites now generate huge amounts of traffic from potential buyers and it's important to maximise the impact of an online ad.
Using professional photography, videography and even drone footage is one way to capture the appeal of high value properties.
Video footage of Kilternan Lodge, for sale with Lisney.
With high-end homes having a larger floor space, a professionally-made video tour can showcase the property and allow overseas buyers to view it from the comfort of their own homes. Drone footage is particularly good for showcasing a property in a wider context.
Using these digital and visual tools compliments traditional marketing approaches and helps to reach a wider audience. "We take an awful lot of time to get the marketing right on the property," says David. "Our advice is always to take your time. Don't rush."
In addition to using emerging digital tools, an in-house design team creates bespoke promotional brochures. The marketing efforts are handled as part of an ongoing process of consultation with the homeowner.
"Obviously, the client knows the property best so we get a much better result especially when the properties are more unique in their nature," says David. "The tools we have at our disposal are vast but it's very much a tailored marketing campaign around each individual property. When it comes to higher value properties, it's about knowing who's in the market."
One part of Lisney's approach to selling high-end properties is the extended network of professional services. Being in the business for so long means developing long-term working relationships with an extended team of solicitors, architects, stagers, cleaners, gardeners and more.
"Our collective experience in property value all comes together for the benefit of the client," says David. "We work as a team to get the best outcome."
The importance of staging
A later part of the process is advising sellers on decluttering and presentation. It's all part of presenting a home in the best possible light, removing anything that might act as a deterrent, and making it as attractive as possible for potential buyers.
"People like to get a feel for how a house is with furniture in situ," says David. "It adds value, especially in higher-end houses. We often find that when people walk into an empty house, they tend to walk through it quite quickly. Whereas if there is furniture in it, it tends to slow them down and they take time to appreciate it."
Simple staging may not seem like much but it can make people pause and visualise a property as a home, rather than simply walking through the open space. It's a little thing – but those little things are vital when you're selling a luxury house!
Interesting properties at Leeson Street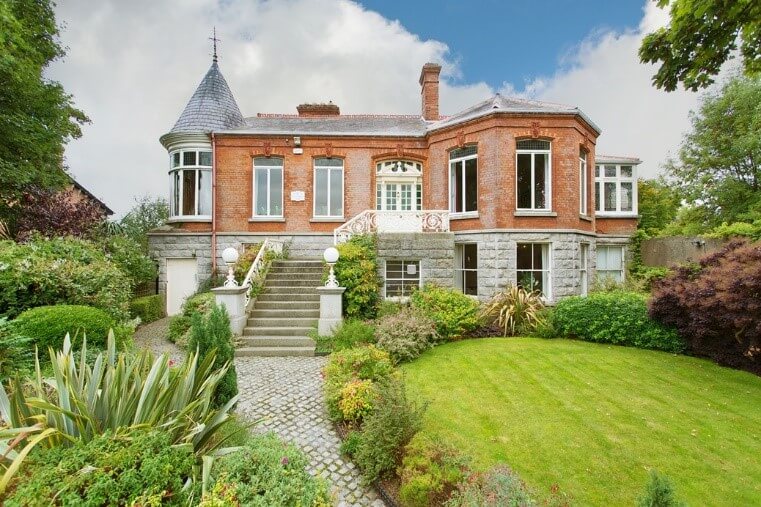 Glena, for sale with Lisney, on the Rock Road.
One striking property that's currently up for sale is Glena, on the Rock Road – the former residence of legendary Irish tenor John McCormack. This distinctive Victorian residence is on sale for €3.6 million.
It offers a sea view that takes in Booterstown Nature Reserve, the Irish Sea and Howth Head. This impressive six-bedroom home offers lots of period styling, spacious interiors and a large rear garden with a feature summer house.
For something with a fraction less history, this two storey in Donnybrook is gorgeous too. Elegant and well-presented, the house is a short stroll to Donnybrook or St. Stephen's Green.
With an asking price of €1.9 million, the future owner will be acquiring a beautiful property with three bathrooms, three receptions, and a fine south-facing garden.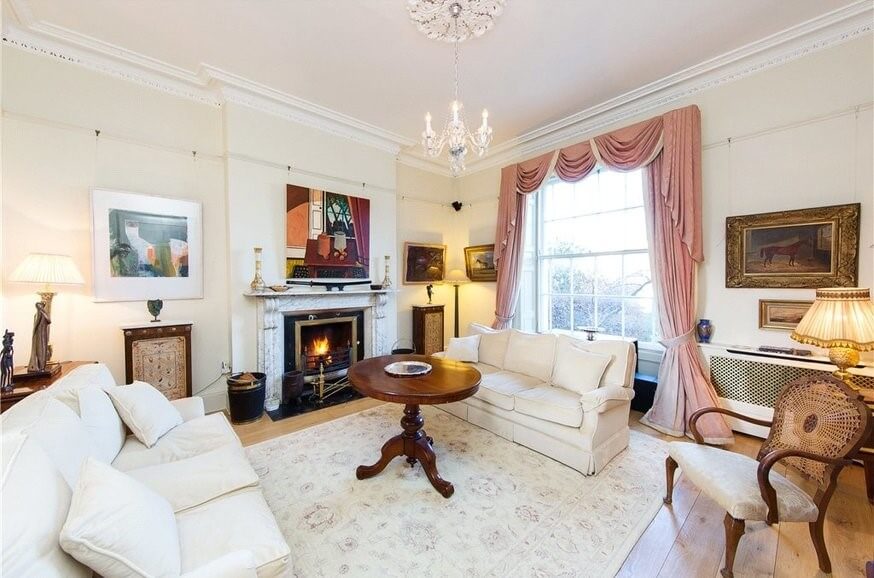 The living room of 65A Upper Leeson Street. 
Five things you didn't know about South Dublin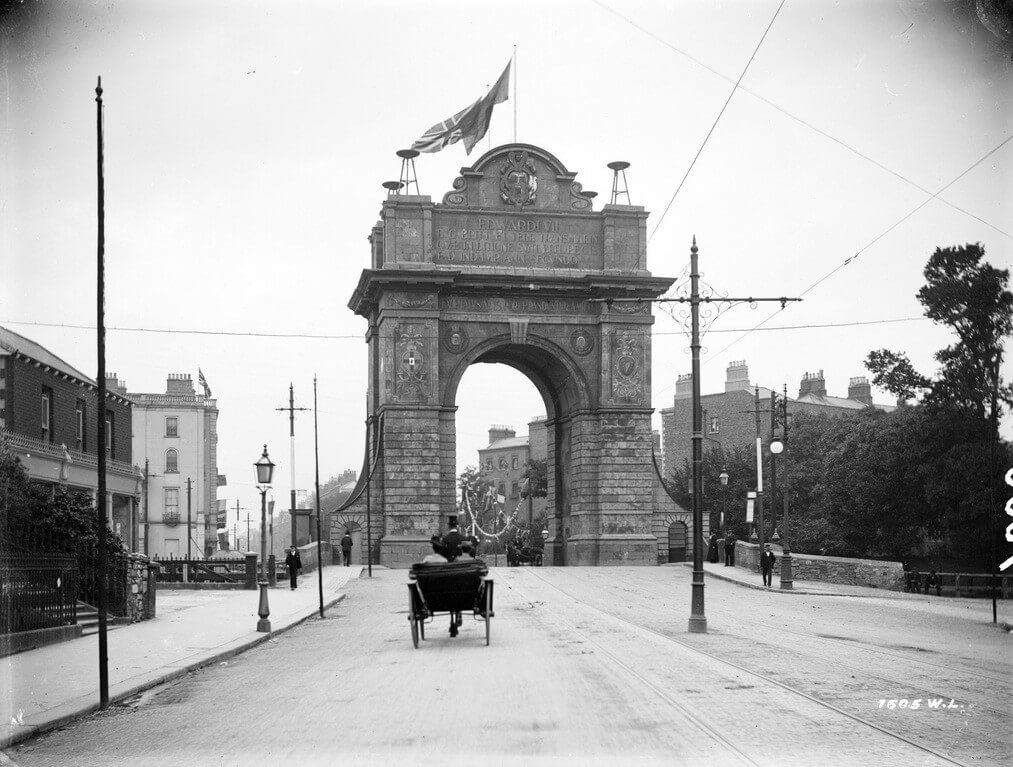 The Triumphal Arch on Leeson Street Bridge. Image: by National Library of Ireland on The Commons (EDWARDI VII), via Wikimedia Commons.
1.  Lisney's office at 103 Upper Leeson Street was formerly a Bank of Ireland premises that was affectionately known as Bono's bank – apparently Bono used to do his banking there.
2.  Donnybrook was famous for its annual fair, licensed by King John of England in 1204 and suppressed in the mid-1800s because of its disorderliness. The fair gave rise to the term "donnybrook," meaning a scene of uproar or disorder.
3.  The RDS (Royal Dublin Society) was founded in 1731 by 14 Irishmen to improve the poor economic condition of the country by promoting agriculture, arts, industry and science in Ireland. This objective, they believed, could be achieved by the dissemination of knowledge and new ideas.
4.   W.B. Yeats was born in Sandymount.
5.    There was a Triumphal Arch erected on Leeson Street Bridge for the visit of Edward VII to Dublin in 1903.
Thinking of selling on Leeson Street?
Contact our team in the Leeson Street office for expert help and the best advice. Follow us on Facebook, Twitter or LinkedIn for all the latest news, local savvy, and stunning properties.