How to downsize in Dublin for your retirement,
22nd June 2016
Freeing up equity, slashing your bills, and making your life simpler – is it any wonder that so many people choose to downsize for retirement?
If you're a homeowner and you want to downsize, the good news is that there's never been a better time to do it.
Anyone watching the news over the past year will be aware of a few key trends in the property market:
So it's not surprising that downsizing is still a hugely appealing prospect to many Dublin homeowners. Buying or selling a home is a big decision for anyone, of course: there is a lot to consider, especially if you're downsizing for retirement.
The advantages of downsizing for retirement
1. Cash boost
The difference between apartment and house prices can be startling. Using one example, a desirable, two-bed apartment in Blackrock (like this one) might cost a full €300,000 less than a three-bedroom house in the same area.
Even taking into account the costs of selling and relocating, that's still a very healthy six-figure boon to your retirement.
If you're smart with selling and savings, you could be looking at a profit well into the six-figure range for Dublin properties. What you do with that windfall depends on your circumstance, age of retirement, savings and personal preferences. Some options to generate more income for retirement include:
Fixed Term and Lump Sum Accounts. Different institutions offer different rates on your investment depending on the lump sum and account. To compare savings accounts, head over to the calculator on consumerhelp.ie.
10 Year National Solidarity Bond. This is a longer-term, equally safe, but more profitable way to invest. You're promised a 25% return on your investment after 10 years (or more specifically, 2.26% per year) and the maximum you can invest is €120,000 per person (or €240,000 per couple). There's more information here.
Selling furniture. A simple way of making money but valid all the same! If you have the time, consider selling spare furniture or passing it on to family members. Second-hand websites like Done Deal are a good way to make space and a small profit. For knick-knacks, consider a car boot sale like the Jamestown Indoor Market, the Dublin Flea Market, or and any of the many markets around Dublin.
2. Smaller day to day expenses
The cost of heating, lighting, taxing and insuring a home typically drops by the square foot. As any house-owner knows, an unheated room can have an effect on the whole house when it's the dead of winter – especially if your house was built in the days before BER and is particularly difficult to heat. Brrr!
An apartment will have the added cost of a service charge, but that covers a lot, often including bins, common areas, gardens and more.
3. A better location
Property purchases are usually a compromise between square footage and location: a bigger home is more affordable in a less desirable location, and vice versa. If you want to live in a smaller home, you have more choice of where you live, whether you'd like somewhere more remote, more central, or closer to friends and relatives.
How to downsize: the process explained in brief
Moving away from a home you've lived in for 30/40 years is a big deal, and there's much you'll have taken for granted about living there. You'll need to talk it through with your partner and fully commit to the decision to move.
One of the earliest steps you should take is to draw up a list of things you want in your move, for example favoured locations, the size of the house, and any key features like a garden for the grandkids to play in or the family pet to run about in.
Once you've got a list of wants, you'll need to discuss auctioneers and the process of whether to buy or sell first. It's also good to get your family involved. Lisney customer Jim and his wife Lilian recently relocated from Killiney to Dalkey with the help of our Dun Laoghaire staff. Jim advises first arranging a Sunday lunch for your family and telling them about your plans.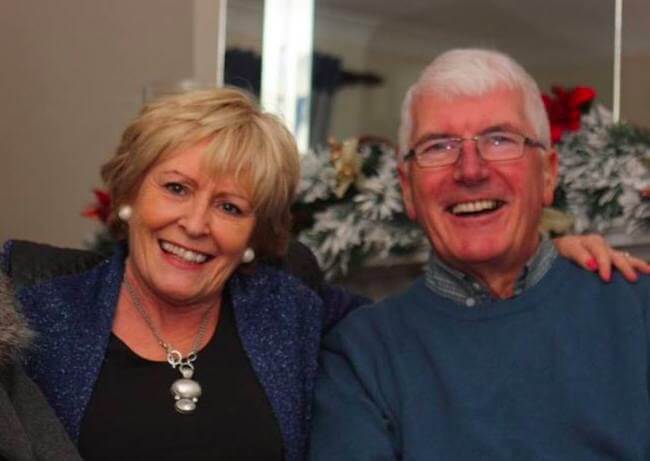 Jim and Lilian, Lisney clients who recently moved from Killiney to Dalkey.
"Listen carefully to any advice or ideas they may have as they'll all have more up to date knowledge on moving," says Jim. He also suggests involving your family early as "they will be great supporters and advisors during the process."
The next step is to get the house ready for sale: this could include anything from doing up the garden to making small DIY improvements or, as Jim advises, "pruning all the trees to give more light and better views."
Selecting an excellent auctioneer or estate agent is a vital step in a successful downsizing too. With Lisney, the Branch Managers will have excellent knowledge of the local area as well as the current market trends. "Not only can Lisney help sell your home," says Jim, "but they can indicate where you may find the replacement house to match your needs."
The estate agent will estimate the value of the property in the current market and offer competitive rates for completing the sale. Jim advises talking to three estate agents or auctioneers as "you'll have a good indication of what price to target after hearing the estimates from competing companies."
Once you've selected an auctioneer or estate agent, they'll start work on the business end of things like photography, brochures, and BER ratings. Jim advises "launching your home on the market when you have selected a replacement home." This way, he says, you'll have the opportunity to co-ordinate the sale of your home close enough to the procurement of your new home.
Once you're into the process, you'll need to liaise with a solicitor who'll handle the deal. If you don't already have a family solicitor, look around for a reputable solicitor with experience in handling property deals. You'll need to get your documents in order too e.g. the deeds for your home, records or extensions, architect plans, planning permission.
The search for your new home is a big step and comes with plenty of considerations. "Make sure to check out the aspect of the property," says Jim. "If you're used to a back garden with a southerly aspect and enjoy the evening sun on your patio, then it's important to carry that over to your new home."
You'll also need to look out for certain things like:
Choosing a home that can accommodate some of your favourite items or any furniture you're particularly attached to.
A high BER rating, which will help to lower heating/fuel costs.
A friendly, relaxed vibe in the neighbourhood. Don't be afraid to ask the neighbours what the neighbourhood is really like!
You may need to get planning permission if you intend to build or refurb a house. Any new building work may also mean the additional cost of contractors or architects, so factor that into your budget.
· Check older houses for any defects or structural skeletons that may cause issues.
As for Jim, he says that downsizing was the right move for his family "as it's a choice for life!", and he's excited for what's to come in the next stage of his life.
Do you want to downsize for your retirement?
With over 80 years of experience in the property market and local savvy to boot, we can help you downsize your house.
If you have a question about selling a house, get in touch or follow us on Facebook, LinkedIn, and Twitter for gorgeous properties and selling advice.