Why a splash of green could earn you more when selling your house,
24th January 2017
When it comes to selling a house, we've all heard the advice about having neutral tones in a house so that a potential buyer can imagine themselves living there. And sure, it's true for the most part, but it doesn't have to be a blanket statement.
In fact, the latest evidence shows that the issue might not be so black and white. (If you'll excuse the pun!)
The New York Times published an article last year about the trends in home staging before a sale. They cited the case of a couple who had a property on the market for the typically New York price of $1.85 million (for a two-bedroom apartment no less).
The couple had over 100 viewings of the property but not a single offer – even after dropping the price to the altogether more reasonable price of $1.65 million.
The owners then turned to a professional home stager who charged them $26,000 to remove all their belongings and replace them with contemporary furniture and a "cowhide rug".
The result? When the house was relisted for $1.495 million and "the place was mobbed" according to the owner. A bidding war soon ensued and the property was sold for $1.8 million. And all down to genius staging and use of colour!
A more modern style
Sid Pinkerton, a home staging expert said that "People are looking for more personality. It used to be more innocuous, where you didn't really want to convey a sense of style. Now, it's gotten a lot more modern.
"I'm doing more accent walls than I've ever done," he said, including individual walls covered in dark brown lacquer, bursts of coral or aqua paint and patterned wallpaper with a rainbow of colour."
While most of us don't have over €20,000 to spend on renting fancy furniture for our homes, there are lessons we can to learn from the judicious use of colour.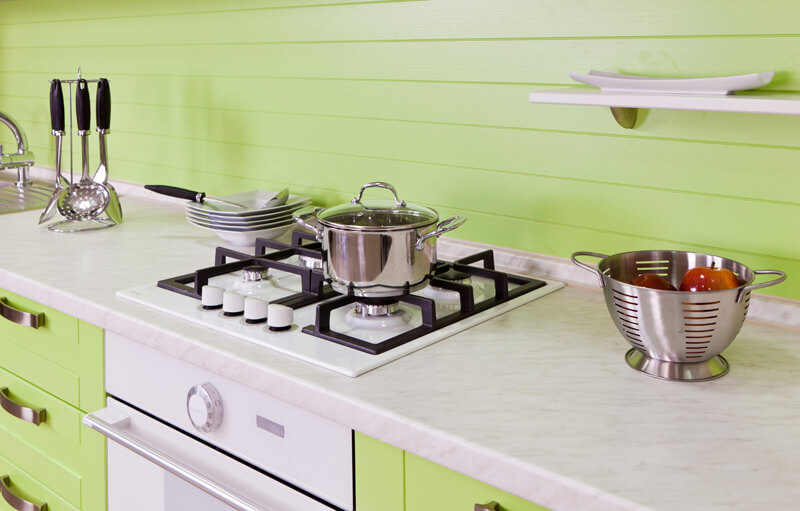 The colour of money
The science of colour theory is long established and has been employed by some of the biggest brands in the world for years. McDonalds, KFC and Pizza Hut all use red in their logos, as red is proven to stimulate hunger. Chanel and Prada use gold to signify sophistication while Dell, IBM and Intel use blue to show trustworthiness.
So, that's all well and good, but how can you implement this science into something tangible to help you sell your home?
Well, some green accents might well be the way to go – whether that be on a feature wall or even incorporating green flourishes (cushions, curtains and fittings) alongside a more conservative paint scheme. Pantone have a team of up to 20 experts whose job it is to travel the world and decide which colours are on trend for the next year. Their tip for this year?
Jeanette Fisher has written a staggering 22 books on design psychology. She says that green is an extremely potent colour when it comes to affecting peoples' moods.
"In light-spectrum research that focused on treatments for season affective disorder, subjects exposed to green colors were in better moods than any of the other subjects tested. Medium shades of green such as sage—and bedrooms painted in creamy tones of green—can be a good choice," she says.
Orla Kelly is a decorative paint expert who has worked with some of Ireland's biggest paint brands and she explains how green has historical connotations too: "In a Georgian house you may have been in a stone-coloured room to meet with the master of the house but if you were brought into a principal room which was painted green then your status had been elevated."
So there you go: colour does in fact matter, and green is shaping up to be the colour du jour for 2017!
Thinking of buying or selling a property?
To elevate the status of your home when it comes time to sell, get in touch for expert advice or follow us on Facebook, Twitter or LinkedIn for all the latest news.