Get to know the Neighbourhood
Dun Laoghaire has had its share of monikers over the years. Initially established as Dun Leary, then renamed Kingstown in honour of King George IV's 1821 visit, it is now known in the original Irish spelling as Dun Laoghaire. One thing has stayed the same, however — the area's popularity with residents and tourists alike!
Dun Laoghaire has a rich history as a major port, once being the largest in the country, as well as the end point for Ireland's first railway. Today it is a well established village with a wide array of shops, restaurants, pubs, cinemas, and of course, plenty of recreational activities. Dun Laoghaire locals enjoy everything from dining at favourites such as Bistro Le Monde, to sea swimming at the Forty Foot, catching a show at the Pavilion Theatre or any number of marine activities in one of Dun Laoghaire's four yacht clubs. On Sundays, The People's Park draws huge numbers of both stallholders and visitors to their famous Farmers' Market.
Located within 10 kilometres from Dublin City Centre, Dun Laoghaire is extremely well served by public transport. The DART line offers 20-minute trips from the city centre, and there are excellent bus routes in the area along with the Aircoach servicing Dublin Airport. There are numerous schools in the area, with some of Dublin's top-rated primary and secondary schools located close by.
Highly desirable bustling coastal town
Excellent public transport links
Superb array of recreational amenities
Mature and well-established neighbourhood
Marine activities
Social amenities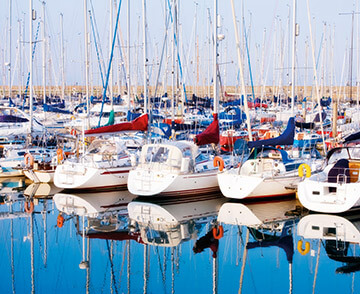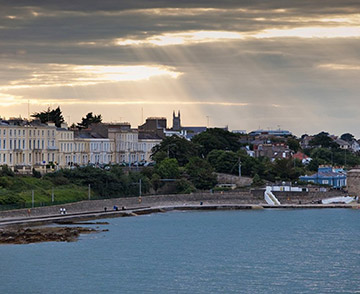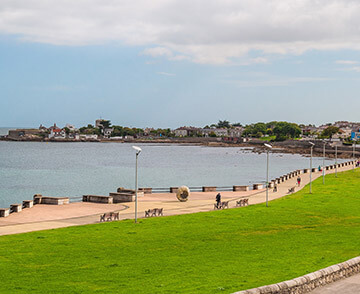 Transport
Due to its popularity with tourists from both further reaches of Dublin City and abroad, there are numerous transport options available in Dun Laoghaire, with regular DART service and multiple all-day bus routes serving the area.
Dart
At Dun Laoghaire (Howth/Greystones)
Dublin Bus
46A – Phoenix Park towards Dun Laoghaire
7 – Mountjoy Sq. towards Brides Glen Luas Stop
7A – Mountjoy Sq. towards Loughlinstown
45A – Dun Laoghaire (Rail Station) towards Kilmacanogue
59 – Dun Laoghaire towards Killiney
63 – Dun Laoghaire to Kilternan
111 – Brides Glen Luas Stop towards Dalkey
Go Ahead
75 – Dun Laoghaire to The Square Tallaght
Aircoach
700 – Dublin Airport to Dublin City Centre & UCD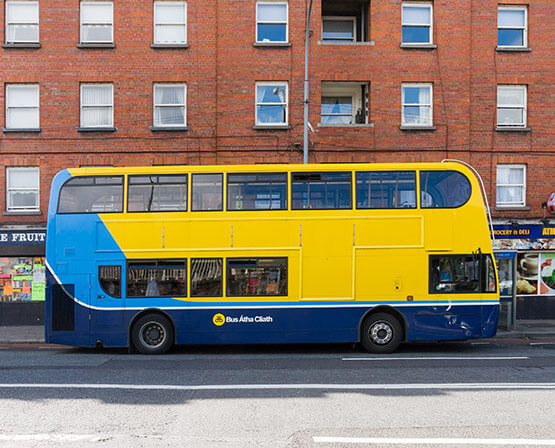 What Dun Laoghaire Has To Offer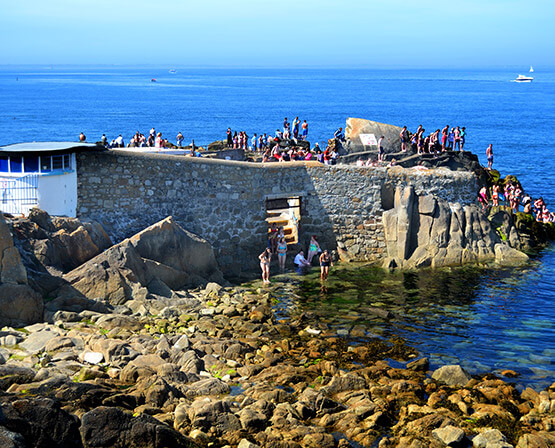 What Dun Laoghaire Has To Offer
Restaurants
Shopping centres
Cafes
Pubs
Parks
Yacht clubs
Marina
Schools
Cinema
Farmer's Market
Pharmacy
Hotel
Library
You may also like